Difficulty reading this e-mail? Please view it online. When It Comes Down To Us Too Good To Be True "Alecia Nugent possesses one of the most honest, refreshing, and believable voices I've heard in many years." Eddie Stubbs, WSM-AM, Grand Ole Opry Largely as a result of the incredible response to their performances together at IBMA, in addition to the acclaim and airplay achieved by their duet "When It Comes Down to Us," Alecia Nugent and Bradley Walker have decided to do a selected number of dates together. Alecia's "A Little Girl…A Big Four-Lane" is currently number two on the Bluegrass Unlimited album chart and her "Too Good to Be True" is number three on the song chart. Bradley Walker was one of the most visible artists at this year's IBMA World of Bluegrass, with an official showcase and a star-studded record release party at the Ryman Auditorium. By the end of the conference, he was the buzz act of the week. His debut album is currently receiving a great deal of airplay and critical notice. The plan is for these two artists to do separate sets backed by Alecia's exceptional band, along with some songs during each set where they will sing together. This is a great opportunity to book two of the fastest-rising new singers in bluegrass at a reasonable fee. For information on bookings, contact Blake McDaniel at BBMcDaniel@caa.com or 615-383-8787. www.AleciaNugent.com • www.BradleyWalker.com • www.Rounder.com • www.CredenceNetwork.com PTS
JD Crowe at Fire Dept Fund Raiser in Deep River,Ia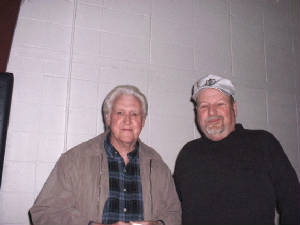 J.D.Crowe Whens at the 2007 IBMA Awards "Lefty's Guitar"
Avoca NTCMA Fest 2002
James Monroe and Billy Dunbar
James Monroe and the Midnight Ramblers appeared for a great fortyfive minute show on my Bluegrass stage. Then accepted the Hall Of Fame induction for his father Bill, Uncles Charle and Birch and himself. Has several albums available on his on label, plus one with his dad and him together. He is getting ready to release a new album, be sure to check out the Tom T. & Dixie Hall tuen "Keepin" It In The Family" Click on their page in the links section.
Avoca 2002
Albert Brumley Jr and Billy. Al's father the great gospel song writer, wrote at "I'll Fly Fly Away"
Albert Brumley Sr has written many of the gospel songs that you and I have sung in church services over the years. Just recently his "I'll Fly Away" was included in the Grammy Awards with the sound track of the award winning motion picture "Old Brother Where art thou." He has just produced with Merle Haggard and Tommy Overstreet an album which features many of his fathers songs done by the likes of Larry Gatlin, George Jones, Tommy Overstreet and Merle Haggard. 87 in all. Look for it. And listen for them on "Country Unplugged".
BOB PAISLEY PASSES AWAY
(From Kay Paisley)
It is with great regret the Paisley family announces the death of our
father Bob Paisley. Bob passed away this morning at his home,
surrounded by his family and went peacefully. Bob has battled cancer
for the last two years and continued to play his music until mid
October when it became difficult for him to walk. Bob loved his fans
and loved to perform traditional bluegrass.

In keeping with Bob's wishes the band will continue to perform each
show as scheduled. We would like to express our sincere thanks for
the many cards, phone calls, and prayers for Bob that have been sent.
Bob is now at peace without pain.

Arrangements have not been completed at this time. Once details are
finalized we will update.

****************

LARRY STEPHENSON HITS NUMBER ONE
ORLANDO, FL –"With his clear ringing tenor, you can't imagine Larry
Stephenson doing anything else than singing bluegrass and with this
selection of songs he's never sung it better."-Country Standard Time

Larry Stephenson's 15 year career with the Larry Stephenson band has
yielded many achievements, his latest being his first #1 single.
December's Bluegrass Unlimited chart shows his single "Clinch
Mountain Mystery," written by Dixie and Tom T. Hall, at the number
one spot. Larry's album of the same name is also charting at #12.

On the album, Larry has assembled the finest bluegrass musicians to
date. Joining Larry are Randy Barnes, Aaron McDaris, Dustin Benson,
Bryan Sutton, Bobby Hicks, and Ron Stewart. The album is getting
rave reviews from publications across the country (Bluegrass
Unlimited, Country Standard Time, The Nashville Musician, etc.,)
along with heavy radio play nationally and internationally. He is
currently touring the US with his award-winning band. Be sure to
check them out at http://www.larrystephensonband.com/, and see him
perform at a venue near you!

For more information on Pinecastle Records go to www.pinecastle.com

******************

MERLEFEST
WILKESBORO, NC: MerleFest 2005 organizers have announced that
composer and recording artist Jim Lauderdale will again serve as
Honorary Chairperson of the Chris Austin Songwriting Contest. Entries
on audiotape or compact disc for the Chris Austin Songwriting Contest
must be received by March.

Lauderdale will empanel a group of Nashville music industry figures
that will evaluate all the entries. This panel will choose three
finalists in each of four categories: bluegrass, country, gospel, and
general. The finals will take place at MerleFest 2005 on April 29 on
the Chris Austin Stage, sponsored by ASCAP and No Depression.
Songwriters performing at the festival will judge the finals. At
MerleFest finalists will receive 4-day tickets and lodging,
underwritten by Fishman Transducers, within thirty miles of the event
and compete for prizes include cash prizes, sponsored by Thomas
Fisher, First Vice-President, Morgan Keegan, Durham, NC, and Epiphone
Guitars from Gibson. Additional prizes and support come from Acoustic
Guitar Magazine; SonicBids, and D'Addario strings. The first place
contestants will perform for the main stage audience.

For the first time, entrants have a choice in how to enter the Chris
Austin Songwriting Contest. They may continue to enter the Chris
Austin Songwriting Contest by mail for an entry fee of $25 per song
using the entry form from the contest brochure (available by calling
800-799-3838) or printed from
www.merlefest.org/SongwritingContest.htm.

All entries by mail must be submitted on tape or CD with entry fee
and an official entry form to The Chris Austin Songwriting Contest;
PO Box 121855; Nashville, TN 37212. Entries without completed entry
form and fee will not be judged.

Contestants may also enter the Chris Austin Songwriting Contest
on line via Sonicbids. In business since 2000, Sonicbids is quickly
becoming the standard way for people in the music business to send
and receive press kits online. Sonicbids currently has more than
1,800 partners, including prominent North American events such as
CMJ, Folk Alliance, and the Billboard Song Contest. New Sonicbids
members may enter one song and obtain a six-month Sonicbids
membership for $29.95. Additional entries and entries by existing
Sonicbids members are $25. For more information:
www.sonicbids.com/chrisaustinsongcontest.

Pete Fisher, then of WarnerSongs and currently general manager of the
Grand Ole Opry, and Kari Estrin, then Associate Coordinator of
MerleFest, initiated the contest to honor the memory of Chris Austin,
a northwestern North Carolina native. A Warner-Refuge writer, Austin
spent several years in the band of Ricky Skaggs, who scored a Top 5
hit with Chris' "Same Ol' Love." On March 16, 1991, only a few hours
after Skaggs recorded the song, Austin, 27, was killed in a tragic
plane accident near San Diego along with other members of Reba
McEntire's band. A solo record, Firm Believer appeared posthumously
on Warner Brothers.

Net Proceeds from the Chris Austin Songwriting Contest originally
endowed a scholarship in memory of Chris, the Chris Austin
Scholarship Fund, and funded construction of the Chris Austin Stage
at the festival, where each year the finalists perform. Thomas
Fisher, First Vice-President, Morgan Keegan, Durham, NC; Gibson
Epiphone; Fishman Transducers, SonicBids, Acoustic Guitar Magazine;
and D'Addario Strings sponsor the Chris Austin Songwriting Contest.

The popular Songwriters' Coffeehouse, sponsored by AccuCopy, again
happens on Friday evening, April 29, at MerleFest 2005. Songwriters
selected by lot from on site registrants on site will share the stage
with singer-songwriters performing at MerleFest.

Chris Austin Songwriting Contest Information: 800-799-3838 or
www.merlefest.org or www.sonicbids.com/chrisaustinsongcontest

*********************

NEW BLUEGRASS BOOK SURPASSES 1000 IN SALES
during first eight weeks on market

"Every library should own a copy," touts Library Journal (October 1,
2004)in its "starred" review of Homegrown Music: Discovering
Bluegrass. This first book for author Stephanie P. Ledgin passed its
first major milestone,logging one thousand (1000) units in sales by
November 22, less than two months after initial availability. With
brisk sales to libraries, schools and to the general marketplace
since its late September release by Praeger Publishers, demand has
been so strong that the book has twice gone into back-order with some
popular distributors.

Retailers near and far are making this primer on the American-born
genre available to an international audience. In addition to well
known U.S.-based online and mortar-and-brick stores as well as
retailers specializing in bluegrass, folk and acoustic music,
Homegrown Music is being sold through Internet sites in such far-
flung countries as the Czech Republic, the United Kingdom, Japan and
China. At home, Ledgin has been invited to present the book at the
prestigious Virginia Festival of the Book, upcoming in March 2005.

Homegrown Music offers a concise and lively look into the origins and
offshoots of bluegrass music, a distinctive music form that emerged
in the mid-twentieth century. The book goes on to discuss the
instruments, the players, singers, songwriters and takes newcomers to
their first bluegrass festival, walking them through the real-life
scenario of what they can expect. Teens to seniors, pickers and
nonmusicians alike will find much to learn and enjoy in Homegrown
Music. While geared primarily toward those unfamiliar with this
exciting music form, the book provides a novel perspective for those
already "in the know."

Exclusive interviews with such legends as Earl Scruggs, Ralph
Stanley, Doc Watson and the Nitty Gritty Dirt Band, as well as with
rising young hotshot picker Sierra Hull are included. An extensive
resource guide is geared toward the Internet savvy as well as the
bookworm. "Twenty-Five Suggested Recordings to Jump Start Your
Collection" gives starting points for every taste within bluegrass
and its "bent and blended" variations. In addition, twenty-five black-
and-white photographs taken by the author comprise a photo essay.
Country and bluegrass superstar Ricky Skaggs provided the foreword,
while "Dr. Banjo" Pete Wernick, former longtime president of the
International Bluegrass Music Association, endorsed Homegrown Music
as a "great introduction to bluegrass."

Stephanie Ledgin began her thirty-year career in bluegrass as an
editor of the seminal Pickin' magazine in 1975. Since that time her
articles and photographs have appeared around the globe in a
multitude of publications,two recordings and one museum, to date. A
seasoned concert promoter and radio announcer, Ledgin spent ten years
managing Italian guitar wizard Beppe Gambetta and served a decade as
the director of the long-running New Jersey Folk Festival at Rutgers,
the State University, lecturing in the finer points of festival
management within the American Studies curriculum.

Ledgin's second book is scheduled for release in May 2005 from the
University Press of Mississippi. A full-color photo narrative, From
Every Stage: Images of America's Roots Music features 200 photographs
the author/photographer captured over the last more than quarter
century. In addition, several rare, previously unreleased interviews
are included with such legendary personalities as fiddler Vassar
Clements, songwriter Jimmie Skinner, Cajun fiddler Michael Doucet of
Beausoleil and multi-discipline performer-songwriter John Hartford.
Charles Osgood, longtime anchor of CBS News Sunday Morning and The
Osgood File, wrote the foreword.

For more information on Homegrown Music: Discovering Bluegrass, visit
the publisher's Web site at http://greenwood.com or Ledgin's home
base on the Web at http://fiddlingwithwords.com.

***************

5TH ANNUAL CHRISTMAS BLUEGRASS BENEFIT FOR THE HOMELESS!
Are you a bluegrass festival fan who finds it hard to "get your fix" during the cold-weather months? Or are you a new fan of the music looking to explore more of it? And are you looking for a way to put a little holiday cheer into someone else's life, and in doing so put a little extra into yours?

We have just the event for you: the 5th Annual Christmas Bluegrass Benefit Concert For The Homeless on Sunday evening, December 5, at the Station Inn! The fun begins at 7 p.m. The Station Inn is located at 402 12th Ave. S. in Nashville; a donation at the door of $15 is requested (more is welcome).

Of all the ways to help the homeless, this must surely be the most fun. Everyone is invited to come share in the holiday spirit of great music and feel-good giving. Some of the leading lights of bluegrass will be performing, such as Tim O'Brien, Gene Johnson of Diamond Rio, the Larry Stevenson Band, Don Rigsby, Kathy Chiavola, Sam Jackson and the Jackson Gang, J.T. and Paul Gray, and Eddie & Martha Adcock. Of course, special guests always surprise us.

And if you're looking for an extra way to make a difference, you can bring toiletries such as soaps, shampoos, lotions and toothpaste (personal-sized preferred), toothbrushes, combs, new underwear, socks and other such items to contribute to the cause of helping the homeless of Nashville. The money and goods collected will be utilized by our local Campus For Human Development
organization for their Room In The Inn church-based shelter system for men, women and children who have no home.

Want to know more about Room In The Inn and the Campus For Human Development? Take a look at their website, www.CHD-Nashville.org . You'll be amazed at what a difference they are making, and you'll realize what a difference you can make too.

The event is hosted annually by the Adcocks, Donna Sonner, and Gene
and June Johnson. For more information, call the Station Inn at 255-
3307, or check out their website at www.stationinn.com.

*******************

SOUTHERN MISSOURI BLUEGRASS
We proudly announce that we have a new booking agency representing
our group and we look forward to working with them in performing and
playing future events.

If you need our services for any type venue, contact
www.risingstarpromo.com for booking Southern Missouri Bluegrass.

For any information on these events contact us at; 417-256-7494 or
417-926-5398

********************

BLUEGRASS MUSIC PROFILES
You are invited to advertise with BMP. We offer affordable
advertising prices for every budget. The advertising deadlines are:

Ad Deadlines:
January 21 - Mar/Apr 05 Issue


PROMOTERS
Send us your festival listing to be included free in Bluegrass Music
Profiles magazine.

FESTIVAL GUIDE will be printed in the Jan/Feb 05 issue of BMP.

BACK ISSUES
Back Issues for the entire 2003 year are available in a bundle pack
for $15.95 or you can order individual back issues for 2003 and/or 2004 for $5
each.

BLUEGRASS TRIVIA
Be a sponsor of our Bluegrass Trivia section. For details contact us
at bluegrasstrivia@bluegrassmusicprofiles.com or call 859-333-6465.

WEBSITE DIRECTORY
Advertise your website and contact information for only $10 per issue
in our Web Sightings section.

BLUEGRASS ASSOCIATIONS
List your bluegrass association and contact info in BMP for $10 per
issue.

THE GRASSIFIEDS
Advertise in our The Grassifieds (classifieds)section for only 20
cents per word. Keep it clean ya hear!

BMP KITCHEN
Send us your favorite recipe for our BMP Kitchen section. It's FREE.

FRESH BLUEGRASS FOR THE PICKIN'
Send us your new project so we can let everyone know about your new
release and website. This section fills up fast!

BLUEGRASS TRACKS
Send us your new project to be considered for review. This section
fills up fast!

BLUEGRASS MAILBAG
We want to hear from you. Write us an e-mail or snail mail letter and
it just might get published in the Bluegrass Mailbag.

BMP BLUEGRASS STORE
We have CDs for sale at our new bluegrass store. Also, we have wooden instrument
keychains and magnets such as a mandolin, fiddle, banjo, dulcimer and guitar.
These are made in Kentucky. WE NOW HAVE HAT PINS AND EARRINGS. You can purchase
these items on-line at www.bluegrassmusicprofiles.com.

We are here to help. Call or write us today with any questions or
comments.

info@bluegrassmusicprofiles.com or call 859-333-6465.
P.O. Box 850, Nicholasville, KY 40340-0850

We reach the bluegrass fans.

www.bluegrassmusicprofiles.com